One of the most important Google ranking factors is search intent. Behind every search there is intent. In other words, when you type a search into Google, you're looking for something specific. You want to know how to make a certain recipe, the height of the Eiffel tower, or the most recent soccer scores.
Google always seeks to return results that most closely match what you're looking for. Pages that closely match the search intent will rank much higher than those that don't.
If you want to get search traffic to your website, you must optimize your pages for search intent. In other words, you want them to contain the information that people are searching for.
For example, say you maintain a home DIY site and on it you have a step-by-step tutorial for installing a light switch. If you want that page to show up in searches, the information on it should match what people are searching for.
So, how do you optimize your pages for search intent?
Keyword Research
Keyword research is the process of finding relevant keywords and phrases that have a high monthly search volume and then including those words and phrases throughout a page. When you include relevant keywords in your content, it helps Google understand the content more effectively.
There are a number of tools that can help you find relevant, high-volume keywords and phrases:
We're going to use Ubersuggest since it has a number of free features available, but the other tools work well too.
There are several relatively simple ways you can find the best keywords for your page.
First, you can directly enter words and phrases to see what the monthly search volume is. If you enter the phrase "best gaming laptop" into Ubersuggest, you get the following results: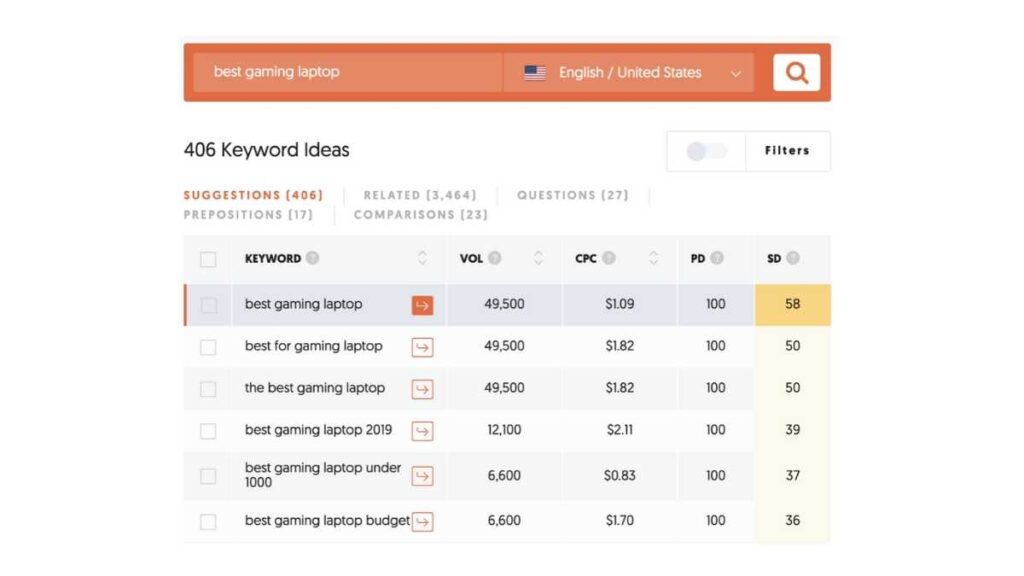 You see the keyword, monthly volume, cost per click (for advertising), competition for paid advertising, and competition for standard SEO. The higher the SEO competition, the more difficult it is to get on the first page of the search results. Generally speaking, keywords with very high search volumes are really tough to rank for.
Your goal is to find keywords that have a relatively high search volume and relatively low levels of competition.
Notice that you're also given a list of related keywords along with your primary keyword. You'll want to include a few of these in your content along with your primary keyword.
Another way to find relevant keywords is to look at your competitors to see what terms they are already ranking for.
If you look at the website Drink Trade (www.drinktrade.com), you can see the top keywords that they rank for.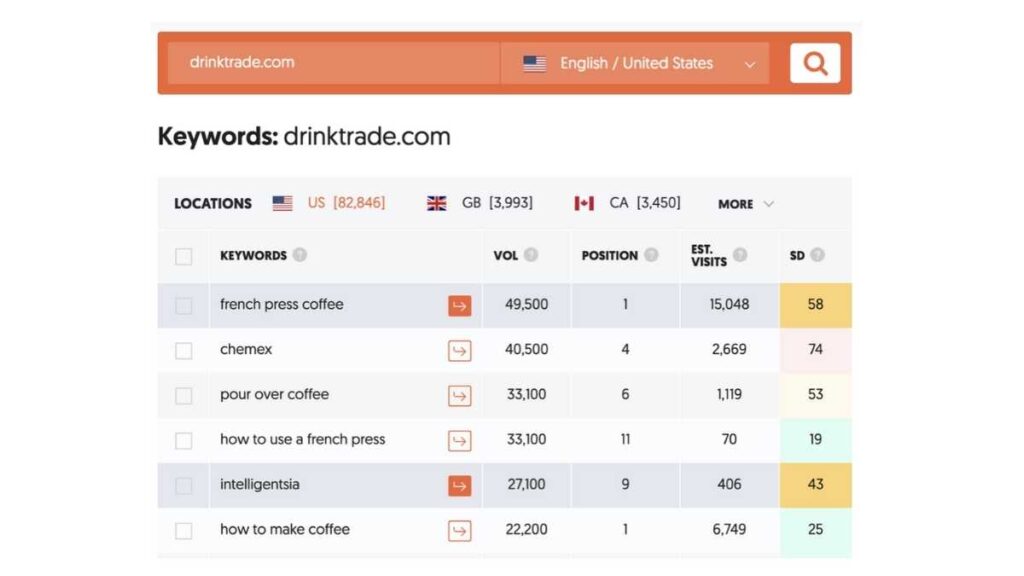 Seeing the terms your competitors rank for can help you determine the keywords you want to go after. Again, look for relatively high-volume, low-competition keywords.
Optimizing Your Content
Once you've identified a number of relevant keywords and phrases, sprinkle them appropriately and naturally throughout your page.
It's important that you don't try to cram in as many keywords as possible. This practice, known as keyword stuffing, is frowned upon by Google and will hurt your page.
Try to include your primary keyword:
In the page title
Within the first 100 words
In a subheading
Naturally sprinkled throughout the body
Remember, Google is smart. You don't need to go overboard on your keywords. Use them enough so that it's clear what your page is about without cluttering up the page. It's important that your page be easy to read and understand.
---