I tested this side hustle a few years back and it works! The reason why I pulled the plug is simply that I wasn't passionate about the topic.
I'm telling you this because I'm a firm believer that you at least need to like the topic you're rolling with. If you do something for the money you'll end up hating it.
If you need money to pay the bills I recommend getting a job. Fuel your side hustle during the after-hours. Most hustles take time to land and become profitable, it's easier to stick with them if you like what you're working on.
Anyway, let's dig in.
Side Hustle Idea For Moms: Pregnancy Announcement Shirts
I stumbled upon this idea while looking for potential advertising possibilities on Facebook. I've noticed that it was possible to advertise pregnant people who were also fans of movies and tv shows.
This led me to the concept of "easy announcement shirts". Fun gadgets for "pregnant nerds".
This is what some of them looked like: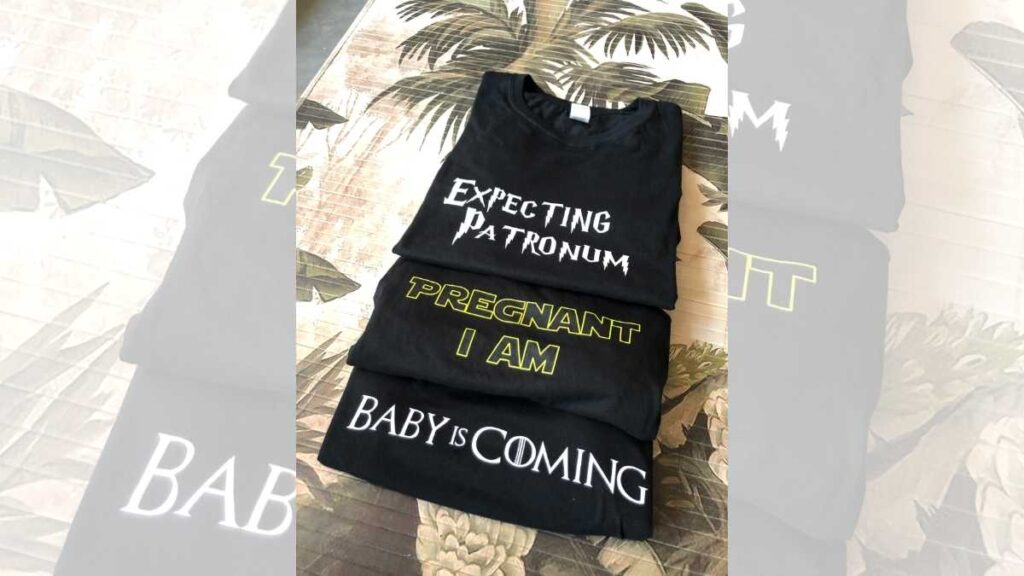 If you're familiar with the shows you'll notice Harry Potter, Star Wars, and Game Of Thrones fonts.
That's all.
I connected a Shopify store to Printful which is a place where you can dropship custom merchandise. You upload the designs you want to be printed and when an order comes in they automatically print the shirt (or whatever you selected) and ship it out to the customer. It's fully automated.
Let me walk you through the steps briefly. I won't get too deep into details since that would make this article way too long. But if you like it I'm sure you'll manage it.
Setting up a store
I used a Shopify store. It's the most basic and easy one to set up an eCommerce store. Payment is added flawlessly and the connection with Printful is very easy. No need for coding and it always looks good. Shopify costs $29 a month (currently it offers 3 months for $1 a month) and it enables pretty much everything you need.
If you want a cheaper solution I would recommend WordPress with Woocommerce. You'll need to know a lot more about building websites for this tho. But with a domain name and hosting you'll pay around $100 a year if I take a wild guess. So a bit cheaper.
I published a free course on building websites with WordPress on my YouTube channel right here. Check it out if you like to go down this rabbit hole.
Adding Printful
You can create an account for Printful right here. After, you can add the Prinful app to your Shopify store. It looks like this in the Shopify App Store: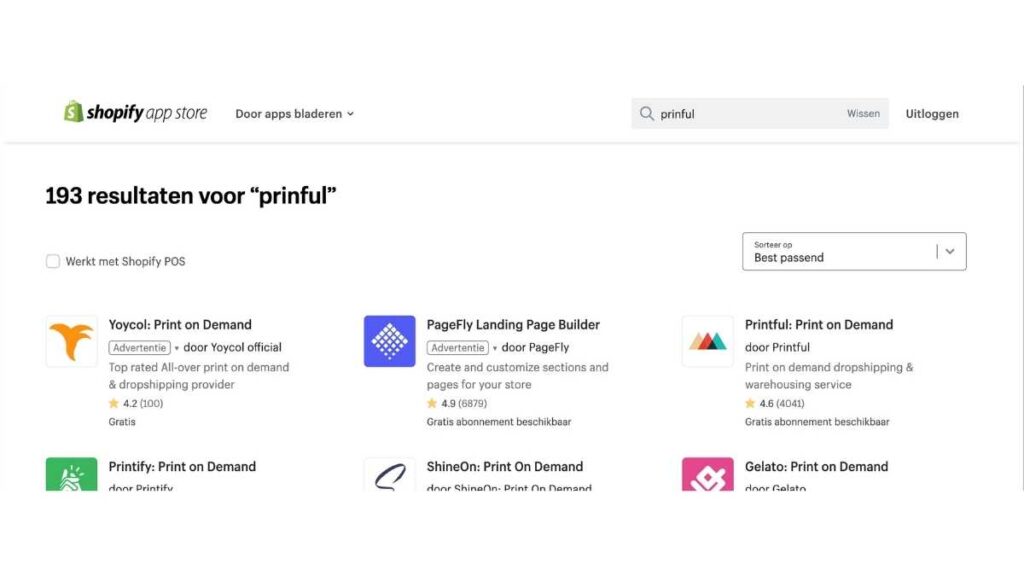 Connect it and you're good to go.
Creating Designs
In this case, I searched for popular movies and shows via Google. From there I searched for famous lines, quotes, and speeches from those Movies and Series.
After that, it's just a matter of getting creative. I've made these, feel free to run with them:
Game Of Thrones (Winter Is Coming)  — Baby Is Coming
Star Wars (Yoda) — Pregnant I Am
Harry Potter (Expecto Patronum) — Expecting Patronum
Back To The Future — Baby In The Future
Ice Age/Vanilla Ice — Ice Ice > (arrow down)
Finding Fonts
I always look for free fonts at DaFont.com. You can browse their library for inspiration or look for famous fonts like Netflix, Disney, or the ones mentioned above.
Creating The Designs
For this, you need to have a little skill in Photoshop. But I believe that some of the basic designs can be made with Canva as well. Here is one before I uploaded it: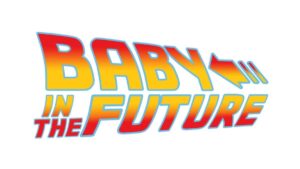 And here is what the shirt mock-up looked like: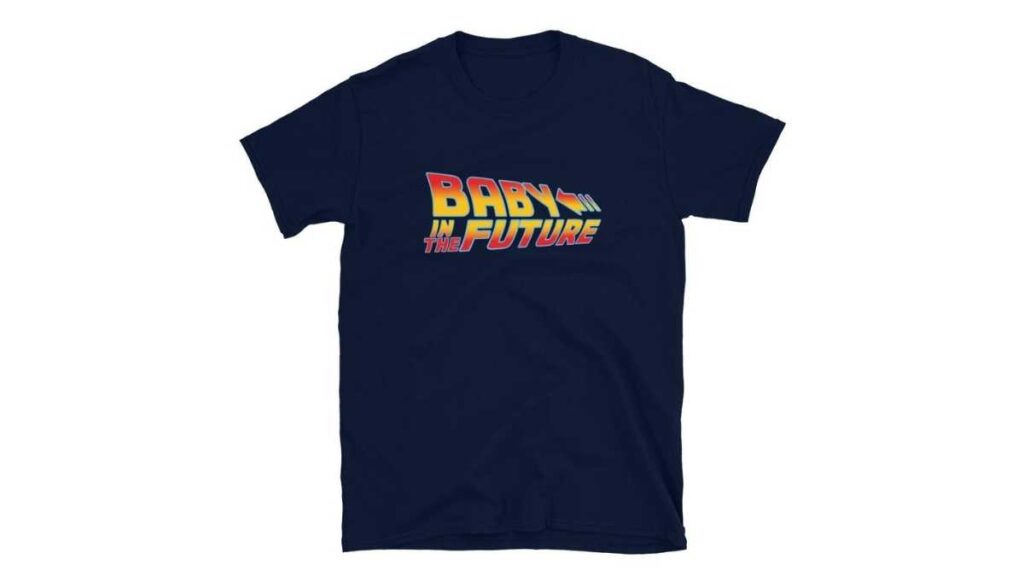 If you want to get creative with Photoshop (which I used for the shirt above) but don't know how. There is a great school where I learned all the Photoshop skills I needed for free. It's called YouTube. For example, if you want to create a design like the one above, just search for the following on YouTube:
How to create a gradient on a font in PhotoShop
How to create a thin line around a font in PhotoShop
How to warp text in PhotoShop
Or, sometimes someone went deep and created a tutorial on a whole concept. Like "How to create a back to the future style text in Photoshop": https://www.youtube.com/watch?v=RCW2WFaVrqk
Making Content
The main part of growing this Side Hustle is creating content that eventually gets you traffic via Google. If you're new to SEO, I've made a detailed Beginner's Guide to Learning SEO right here.
Think content along the line of:
10 creative pregnancy announcement ideas
7 fun ways to announce the bun in your oven
Cheap but creative ways to announce your pregnancy
Brainstorm some and start writing.
Running Ads
My 2 main advertising platforms are Google Search and Facebook Ads. As I mentioned in the introduction. Facebook offers a way of advertising to pregnant people who are also fans of Star Wars, Game Of Thrones, and so forth.
Order some shirts for yourself, shoot some creative pictures, and run some ads to test them. You can advertise on Facebook starting at 2,50 a day. So great for testing some of your designs.
If you want to learn how to advertise on Facebook check out all their free courses right here. As for Google, you can find all their courses right here.
Getting Free Traffic
If you don't like paying for traffic there are ways to get eyeballs for free. It requires some hustling tho.
One of my favorite ways is to actually google the content ideas I've listed.
Or something along the line of "Baby Announcement Ideas". Like this: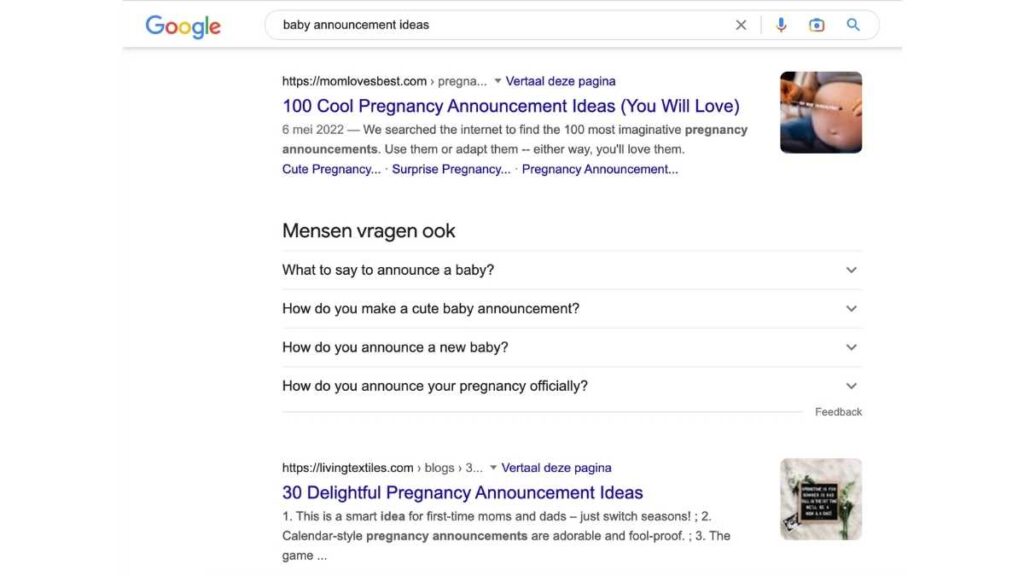 As you see, articles pop up. What you want to do next is check them out. Are they mentioning a product like this? If yes, is their link a referral? In both cases, reach out to them.
Maybe you can offer them a better cut if the link is a referral. Or if they haven't listed a product like yours you can write a short paragraph about it and ask if they are willing to add it. Offer them a cut of every sale directed via their website. Some are probably asking you for payment. It could be worth it.
The benefit of doing this research is that you'll encounter a lot of new ideas. For announcement products and for content. Document all of them so you can create even better content for yourself. Use your content to make Social Media posts for your pages. Sometimes it's better to advertise inspiration over a specific product.
So for example. Make a blog post on 20 creative baby announcement ideas, create a Facebook or Instagram post with a link in your Bio to the article, and use the post as an ad instead of spamming people with your final products. Make sure you add referral links to the others so even if people don't buy your shirts, you still end up earning some money from the other ideas.
In the long run, you want your own content to rank on Google and bring you free traffic. This may take a while tho. Make sure you keep in the loop for my free SEO course that is dropping anytime soon by subscribing to my free newsletter.
Next Steps — More Margin
If your store starts to take off you'll get a better picture of the products that are in demand. Printful is great because it takes away a lot of the workload from you. They print and send the package so you don't have to worry.
There are a lot of benefits if you choose to fulfill yourself tho. The main benefit is that you can order shirts in bulk which brings down the costs and creates a bigger margin for profit.
Another benefit from a marketing perspective is that you have the opportunity to do something extra. You could add a handwritten note to the package and make the experience more personal. Or you could stuff it with promotional materials for cross-sells or upsells (or even sell suppliers of baby materials "ad space" in your package).
In the end, getting the attention of people ready to purchase is valuable. Think about the next steps in their lives. After the announcement, what are they probably going to buy next? And what are they buying before? These are all potential partnerships or new products you could add to your business.
Another scaling opportunity can be found on the content side.
Remember those websites you reached out to in order to get your product featured? Maybe they are possible acquisitions for you. It's common for content websites to change hands. If you can buy the traffic sources where you're customers are coming from you can create a business that thrives on multiple fronts and brings in a lot of different revenue streams. Check it out at Flippa.com, you'll see how many different digital assets are being offered.
It doesn't even have to be a fully operating website you buy. Think out of the box. Maybe you can buy a social media page (Instagram) or a Facebook group or even a forum for "soon-to-be" parents.
I've written an article on buying businesses and assets with $0 out of your own pocket. It's a great source to get started and become familiar with the topic. In the future, I will expand and share more about it.
Conclusion
There is a lot of fun potential Side Hustle ideas out there. Babies are born every day and there is no sign of slowing down. You don't even have to worry about competition. There is so much potential in this niche that this side hustle could be exploited by 100 different people without any of them having to worry about the competition.
If you keep your target audience narrow there is no need to fight over attention. That's just for the greedy. You could make a nice living or work for some extra money while doing something you love.
I'm sharing side hustle content and all the resources I used to break free from my 9–5 in my free weekly newsletter and on my website. If you liked this article I would really appreciate it if you subscribe. It's what keeps me motivated to make content like this.